Digital Business Skills: Most Wanted List
UX designers, data analysts in demand as IT and marketing departments become digital business buddies.
Want to make your business more digital? Here's some good news -- and some bad news
First, the good: According to a recent Forrester survey of 148 technology, marketing, and business decision makers, the goal of delivering more digital experiences to customers is becoming a shared duty across IT, marketing, line-of-business, and sales.
The benefits of collaboration are being seen in the division of responsibilities across groups, at least in theory. Forrester survey data from a report entitled "The State Of Digital Experience Delivery, 2014" shows that IT groups are gaining a voice as a key strategic business partner with a hand in areas such as overall digital strategy services (53%), UX development and design (57%), and data analytics (60%).
Despite the impression that marketing is hogging digital budgets, Forrester survey respondents reveal that on average, IT owns "35% of overall digital experience technology budgets," while marketing gets 32%, line-of-business gets 25%, and sales gets 8%
Now the bad news: Even with a strong emphasis on collaboration plans, organizations are struggling to find people with the right skills to form teams and divvy up workloads.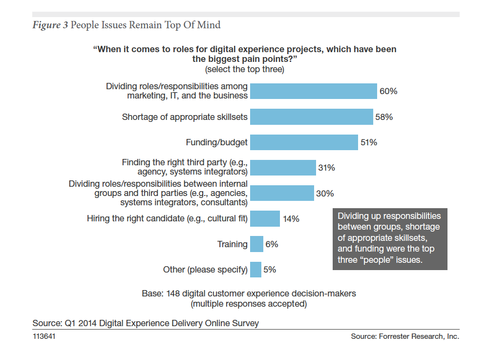 Forrester's conclusion: The IT-marketing partnership for digital business growth is starting to gel, but it's not quite ready for prime time.
Read the rest of this article on InformationWeek