Mobile Health App Offers Discounts for Workouts
The Pact Health fitness tracker raises or lowers employee deductibles based on their commitment to exercise.
There are plenty of smartphone apps and wearable devices that track fitness and nutrition data to help motivate users to change unhealthy behavior. Now, people can share that data with their employers and benefit from lower insurance costs.
Customers' demand for more personalized insurance coverage has motivated insurers across the industry to pursue new opportunities in telematics, wearable technology, and the Internet of Things. Usage-based insurance (UBI) has been making waves in auto insurance, and now individuals can have more control over their health insurance costs as well.
Health tracking app Pact recently launched a health plan for employers called Pact Health, which embeds new technologies and wellness incentives to cut business costs and improve employee health. The supplemental plan acts as a layer on top of existing health policies so that people working at companies that buy Pact Health have the opportunity to raise or lower their deductible coverage based on how faithful they are to their pre-scheduled workouts.
The app provides structure and incentive for those who need an extra push to exercise and helps fit individuals maintain their activity level, explains CEO Yifan Zhang. Each week, Pact Health requires users to decide how many days they want to be active and commit to that schedule.
[Insurance Innovation: Changing With the Times]

Over the course of the week, activity is tracked through smartphone apps or wearable monitoring devices such as Fitbit or Jawbone. If they meet their goal, participating employees receive a $5 discount on their deductible; if they fall short, they lose $5. Users can earn up to $1,000 per year in additional coverage.
The startup team decided to create Pact Health after studying behavioral economics and motivation. "The inspiration was mostly the research we did in terms of how negative incentives are way stronger as a financial motivator than positive incentives," Zhang explains. The combination of positive and negative incentives has motivated app users to commit to 95% of the workouts they promise to complete, she says.
Simplification and ease of use took top priority throughout app design and development, Zhang continues. The team, which is comprised of equal parts tech developers and non-tech experts in customer service and marketing, wanted Pact Health to leverage modern technology for a seamless user experience.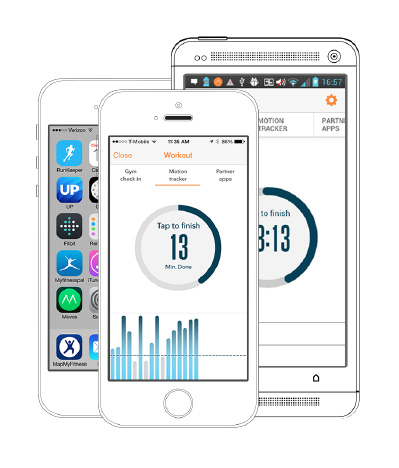 "Earlier on, the biggest challenge was verifying workouts in a way that wasn't too burdensome [for the user]," she says. "We make it just hard enough to cheat so you won't do it regularly."
Users can confirm they exercised by checking in and out of their gym or through apps such as Pact or RunKeeper. The workout has to last at least thirty minutes to count, explains Zhang, and most people won't go to the gym and not do anything for that period of time.
To further accommodate its modern user base, Pact Health has a built-in customer support portal for users to report issues. "We're very, very engaged," says Zhang, also noting that the team is present on Twitter, Facebook and Instagram.
Pact Health is making its debut in Massachusetts. The team wanted to launch in a state with a high cost of healthcare, large population of tech-savvy small businesses, and innovative attitude towards health insurance. Regulatory concerns aren't the primary concern for growth, says Zhang, as Pact Health has been cleared at both state and national levels.
"It's really about how business and individuals accept this novel idea," she notes. "It's a very different concept for companies to think about."
Kelly Sheridan is the Staff Editor at Dark Reading, where she focuses on cybersecurity news and analysis. She is a business technology journalist who previously reported for InformationWeek, where she covered Microsoft, and Insurance & Technology, where she covered financial ... View Full Bio